Wood floor coatings and their worst enemy: wear
Wear is the main wood floors damage cause and, also the worst enemy of wood floor coatings.
According to surface science and engineering, wear is the progressive loss of material due to friction between two elements.
load
sliding
collisions
speed
temperature
and also solid, liquid or gaseous state of materials in contact with the floor surface are some of the parameters that influence its degradation.
il carico
lo scorrimento
l'impatto
la velocità
la temperatura
ma anche la natura solida, liquida o gassosa dei materiali a contatto con la pavimentazione.
Solid wood coatings follow the European norm UNI EN 15185:2011. The passed the taber.test.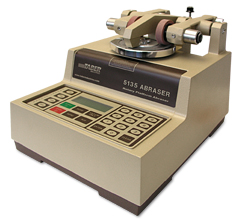 Taber test is the main instrument used by international institutions for certifications in order to classify the resistance to abrasions.
It is used in the oil industry and in the aerospace field. Abrasion wheels can be different: from soft rubber wheels with silicon elements to very hard ceramic wheels.