100% CLEAN
Renner Italia's green philosophy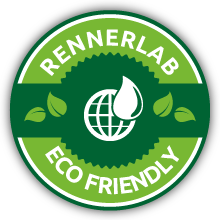 Rennerlab – EcoFriendly project is far from old production routines. Indeed, Renner Italia's coatings and wood floor coatings production is possible thanks to the energy produced exclusively with renewable sources.
Solid is produced in plants powered with hydroelectric, eolian, solar and biomass energy.
In this case too, Renner Italia's green objective is to reduce the polluting impact of the energetic system and to preserve the environment.
Renner Italia follows an environmentally friendly politics since its origins.
Renner Italia has always encouraged the water-based research: products with a low volatile organic compound but a high performance in terms of resistance and beauty. Renner Italia's mission says: "we feel duty-bound to preserve our ecosystem" because "we are astonished by the beauty that surrounds us and we want to support it".
In Minerbio (Bologna) the industrial growth of Renner Italia walks along with the respect for nature. A green path that respects our territory.
Some years ago, the Italian Ministero dell'Ambiente e della Tutela del Territorio e del Mare gave to the company a prize for its initiative "Il risparmio energetico in busta paga". The company got the "Premio Impresa Ambiente 2012", a prize that the Italian Government gives to the companies that support the sustainable development, the respect for the environment and the social responsibility.
Renner Italia was the first in the category "Best management" for "realizing a project that promotes energy savings. 50% of these savings are distributed to the employees".