ECOFRIENDLY RENNERLAB
Renner Italia's green philosophy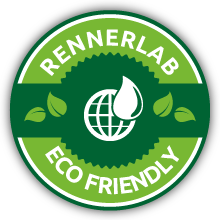 Solid is the environmentally friendly coating range for wood floors that helps the tiler. Solid water-based coatings are realised in the respect of human beings; both the technician and the ones who chose wood for their houses.
Our chemists are aware of the central role of industry in the control of climate change; for this reason, they eliminated 95% of toxic solvent emissions, and all of the products for the decoration and the protection of the wood are completely non-toxic.
The green technology inside Solid range is inspired by the project Rennerlab – EcoFriendly. Rennerlab – EcoFriendly project wants to build a safe environment for those who chose wood for their houses.
Rennerlab – EcoFriendly project aims are:
a zero emission objective
the elimination of the dangerous components
a better indoor air quality
the creation of safer and habitable spaces
the participation to materials and energy savings
With a simple and efficient communication activity, Rennerlab – EcoFriendly also wants to help the customer in the choice of chemical products and the selection of water-based products more in line with the current environmental needs.