Solid wooden floor coatings and Giacomo Moor at Fuori Salone of Milan Furniture Fair 2016
Solid, Renner Italia's wooden floor coatings range, will be at the Parquet Art Gallery, an exhibit of the "Fuori Salone" of Milan Furniture Fair 2016. The "Fuori Salone" consist of the events dedicated to design at Milan Furniture Fair. Parquet Art Gallery is the gallery created by Aippl – Federlegnoarredo for 2016 edition, from 12th to 17th in Via Tortona 12.
If wooden floor is intended to be a conceptual artwork, Solid coatings are called to give life, soul and light to the artwork.
"We have been enthusiastic about Aippl iniziative – explains Andrea Ori, Solid range product manager -. Aippl's approach revolutionizes the idea of wooden floor: it is no more a simple surface for walking, but it becomes a creative artwork that enhances any living space. This is an old Italian tradition that we carry in our dna. 2000 years ago, floor mosaic masters of the Ancient Rome already decorated floors."
Renner Italia assigned to Giacomo Moor the definition of the wooden floor for Aippl's Art Gallery. Moor is one of the most talented International designers. Last year, he was nominated Young Talent of the Year for the prestigious award Edida by Elle Decor. "We contacted Moor because he is a great designer and he is able to enhance the nature of wood – Manuel Siragna, Renner italia's Sales Director, says -. In particular, we asked him to underline Solid technology's green vocation ".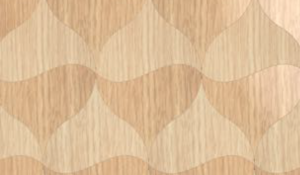 Giacomo Moor collaborates along with Aurelie Callegari.
"The concept embraces fishing float, water drop and Yin Yang symbol (equilibrium of opposite sides) shapes, interpreting them in order to reflect eco-friendly values belonging to Renner – Moor says -. The basic pattern is repeated infinitely and creates a decorative motif precious and meaningful thanks to the application of two opposite Renner Italia's water-based coatings: gloss and mat ones. The light and the position of the observer underline the drawing, revealing the fishing float shape fluctuating on the water".
Float Parquet. This is the name of this artwork made of oak wood, product by hand by the restorer Paolo Zamboni. If you want to see it, save the date: from 12th to 17th April at Aippl-Federlegno's Parquet Art Gallery in Via Tortona 12, Milan.
Giacomo Moor's picture is taken from www.giacomoor.com.